Striping is the process of taking a solid color cable and applying a straight line or cylindrical stripe on the cable for identification. It aids in differentiating between two similar cables in the same tray or conduit. There are 12 primary colors for wire and cable, and if you require more than 12 different colors for your application, striping is utilized to create different color code options.
At OmniCable, we can stripe any color wire with any color stripe. Some of the most common cables we stripe are THHN, MTW, TEW, and Type SIS. We can stripe all gauge sizes, from 24 AWG to 500 MCM. Eight gauge and larger sizes of cable utilize a straight line stripe. OmniCable has striping machines in all of our 12 locations.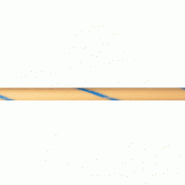 Contact your OmniCable Account Manager today for more information about our value-added services.