If you are running pulling conductors through the same area, instead of pulling them one at a time, you can twist them together to form a multi-conductor cable that can be utilized without a jacket. This value added service can save you time and money on your project.
Many cables can be twisted together in a variety of constructions. Some of the most common cable constructions twisted in our value added operation are THHN, THWN, UL 1015, MTW, TEW, and XHHW conductors. OmniCable can twist up to 5 conductors in sizes from 22 AWG to 16 AWG, or up to 3 conductors in sizes from 14 AWG to 10 AWG.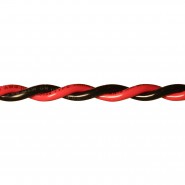 Contact your OmniCable Account Manager today for more information about our value-added services.