Number and Bundling Services
Number & Bundling service takes multiple-type cables and custom-bundles them on a single spool. It is one fast cable pull with no jacket, thus maintaining cable flexibility. Taped constructions with pull-tabs, staggered lengths, and sequentially numbered footage tape available.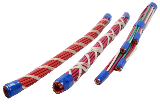 Contact your OmniCable Account Manager today for more information about our value-added services.