If you are ever in need of a particular color that isn't manufactured, dyeing may solve your problem. Some cables are only manufactured in one color, take gray for example, but if you have multiple runs of the same cable, OmniCable can dye the cable so that it can easily be identified after running it through conduit.
Dyeing permanently changes the color of a single conductor wire. The process is most effective on PVC type wires and fiberglass jacketed silicone wires. It is used primarily by OEM/MRO customers.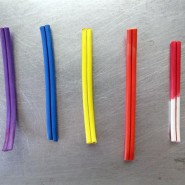 Contact your OmniCable Account Manager today for more information about our value-added services.